Plant-Based Citronella Oil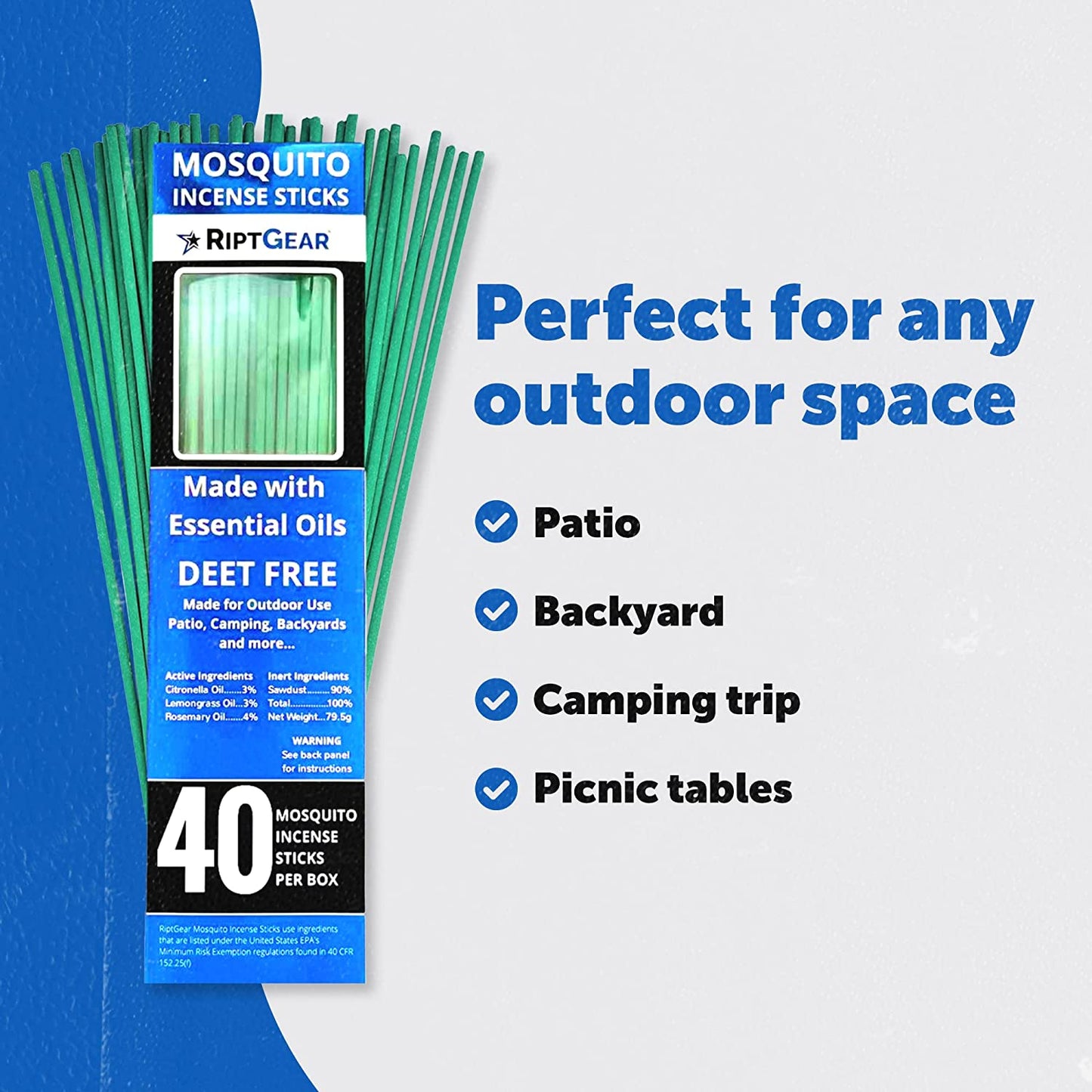 Say Goodbye to Mosquitos!
Designed to mask the carbon dioxide from your breath. This is what mosquitos are attracted to.
The secret lies in the Citronella Incense Sticks. Infused with Citronella oil, a natural insect repellent, these incense sticks act as a powerful deterrent for those pesky mosquitoes.
The Citronella works by masking the scents of carbon dioxide and lactic acid that our bodies naturally produce, confusing the mosquitoes and keeping you off their dinner menu.
DEET Free Natural Ingredients
No harmful chemicals. Plant-based ingredients. Each incense stick is infused with citronella oil to help keep mosquitos away.
Perfect for Travel
The incense sticks are perfect for traveling and can be packed in a purse, suitcase, or backpack. Burn them while camping, at a picnic, or on the porch.
Celebrating Over One Million Products Sold
With a remarkable track record, RiptGear has earned its stellar reputation through unyielding commitment to customer satisfaction.
Questions & Answers
How long will they last in the package?

They can last for several years if stored in a cool dry place with a tightly sealed package.
How long do they last?

The scent will start to dissipate once the sticks are removed from the sealed package. Incense sticks have a burn time of about 40-45 minutes. However, wind will likely reduce burn time.
Are these safe to use around food?

Yes! Our incense sticks are all natural and are safe to have burning nearby while you enjoy your meals. Just make sure that you are only using the incense sticks outdoors!
Do these sticks fit in a standard-sized incense holder?

Yes, they fit in a standard size incense holder.
Can these be used indoors? I have mini mosquitos that get in when the patio door is left open for a second.

Incense Sticks are made to only be used outdoors. We do not recommend using our sticks indoors or in your home. We would suggest placing them outside near your entrance on the patio!
Try Us Risk Free
Fast Free Shipping

All products ship from within the USA.

30-Day Trial

Not in love? Full refund according to our Return & Refund Policy.

Easy Returns

Simple return policy for your peace of mind.
Choosing a selection results in a full page refresh.
Opens in a new window.